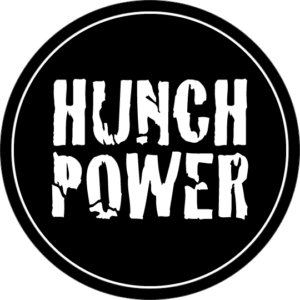 Hunch Power is an Alternative Rock band from the thriving Nottingham music scene. Their songs are "hunch-powered" with unpredictable turns while being ridiculously catchy and reminiscent of Frank Turner, Rise Against, Manic Street Preachers, The Gaslight Anthem, Green Day, The Clash and of course Bruce Springsteen.
Their lyrics channel the concerns of our times and their impact on individual lives. Songs brewed in a dysfunctional World where topics such as Mental Health, Climate Change, racism, war, death, work-life balance and social media isolation do matter.
Their debut single "Stop the World" instantly caught the attention of the music press. BBC Introducing premiered it on radio for the UK while the legendary Rodney Bingenheimer premiered it on Sirius XM (The Underground Garage) for the US. Its iconic music video premiered online on Vive Le Rock! in July 2022.
It was produced, mixed and mastered by Sam Cook (Ducking Punches, Harker) with Jack Gregory (Hell's Ditch, Northern Captives) guesting on session drums.
Hunch Power wrapped up 2022 supporting Frank Turner's protégés PET NEEDS in Nottingham in December 2022. Multi-cam videos of the show were premiered by the online blogs Mass Movement and Thoughts Words Action in early 2023.
They've released three singles so far. Their next one "Is This the End?" is out July 7th.
It was recorded again with Producer Sam Cook (Ducking Punches, Harker) and session drummer Jack Gregory (Hell's Ditch, Northern Captives).
They're poised for a busy festival season across the UK this summer.